While Stand For The Troops ("SFTT") primarily focuses on making sure Veterans with PTSD receive the therapy and support they deserve, we would be remiss in not acknowledging that Veteran families also suffer grievously from the "silent wounds of war."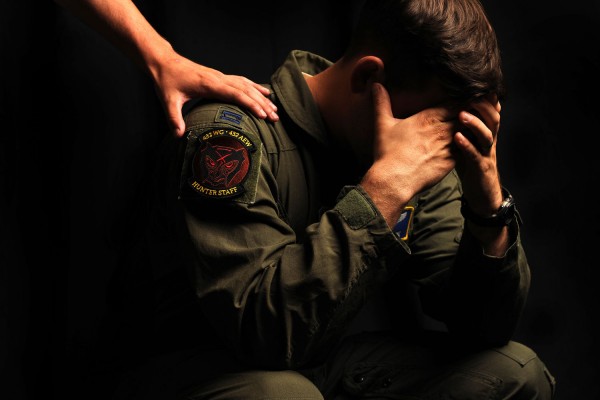 Indeed,  social media is inundated with heart-wrenching stories of partners of Veterans seeking advice and support of other Veteran partners on coping with the day-to-day problems of Veterans with PTSD and TBI.   In many cases, these partners (primarily wives) have benefitted from support groups in which they exchange advice and provide comfort to others as their husbands combat the demons of PTSD.
In fact, the Department of Veteran's Affairs ("the VA") has a "caregiver support line for partners of Veterans with PTSD.    That caregiver support line is 1-855-260-3274.
Indeed, the VA provides some useful advice on the advantages of joining a "peer support group" and how to locate them:
Joining a peer support group can help you to feel better in any number of ways, such as:

– Knowing that others are going through something similar

– Learning tips on how to handle day-to-day challenges

– Meeting new friends or connecting to others who understand you

– Learning how to talk about things that bother you or how to ask for help

– Learning to trust other people

– Hearing about helpful new perspectives from others

Peer support groups can be an important part of dealing with PTSD, but they are not a substitute for effective treatment for PTSD. If you have problems after a trauma that last more than a short time, you should get professional help.
Aside from the VA recommendations, many other independent organizations have sprung up to support partners who feel the need to exchange ideas and support one another during a particularly difficult period in their relationship.
Found below in no particular order are online support resources that may help provide a peer support forum to exchange ideas and advice:
A useful Facebook Page of engaged partners who seek to provide useful resources to others on helping wives of military Veterans with PTSD
Established by Senator Elizabeth Dole, Hidden Heroes has as its mission to:
– Raise awareness of the issues military caregivers confront every day
– Inspire individuals, businesses, communities, and civic, faith and government leaders to take action in supporting military caregivers in their communities
– Establish a national registry, encouraging military caregivers to register at HiddenHeroes.org to better connect them to helpful resources and support
A practical guide, gleaned from contributions by its many members, on how to cope with PTSD and TBI.  More practical and common sense advice than clinical evidence, but certainly a recommended resource for those who require guidance and a helping hand.
Essentially, a forum to exchange ideas and vent.  Clearinghouse for frustrations that emanate from being a caregiver for a Veteran coping with PTSD
Authentic – pulls no punches – blog featuring genuine stories of how caregivers cope with the difficulties of sustaining a relationship with Veterans suffering from PTSD and TBI.
While there are many other notable online resources, local support groups that meet in person are probably far more effective than online advice.  Most base facilities provide programs for spouses of active duty personnel.
Veterans discharged from the military or reservists may find active support groups at religious centers or outreach programs supported by local community activists or charitable organizations.
Veterans suffering from PTSD and/or TBI value companionship.  While it may seem difficult to provide them the support they are seeking, it is a battle worth fighting valiantly.  Support groups may well provide the necessary resources one needs to persevere.
Share