The holiday season and New Year's bring many stressful situations that can be difficult to handle, especially for veterans who are recovering addicts or those suffering from another mental health disorder.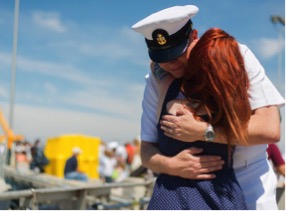 Old triggers, family encounters, large parties, or loneliness can be enough to push a veteran with an addiction toward a relapse. With a healthy game plan, you can get through the holiday season with your sobriety intact and make it a positive experience. The first step is to avoid situations which may increase stress to insure that you can enjoy the holidays with friends and family. But of course, this time of year that can be easier said than done. Whether you are trying to avoid family conflict or struggling with substance abuse, veterans may benefit from these simple suggestions:
One Day at a Time for A Stress Free Holiday 
Focus on today when you wake up each morning and how you want to stay sober. Think about what types of environments you need to navigate and make plans to handle those specific situations. Tell yourself that you can resist any temptations and will stay sober.
Start by taking care of your body, eating regular healthy meals, and getting in exercise whenever possible. This will keep your body's blood sugar regulated, boost mood and confidence, help you avoid irritability, and resist impulses.
Have realistic expectations for the holidays. Expecting everything to run perfectly can set you up for an emotional let down. You can only control yourself, so focus on maintaining your sobriety when confronted with hostile or emotional situations.
Family Events and Parties
Attending family get-togethers and holiday parties can be stressful. Know which situations or people might set off your triggers and avoid them. Arrive early so that you can leave earlier, if needed. Drive yourself if you might need an easy way to leave when you want to. Time spent with people that do not respect your boundaries or elicit temptation should be limited or avoided altogether depending on your level of recovery.
Holiday food and drinks may have unwanted alcohol in their recipes. If you're a recovering alcoholic, being handed drinks or desserts with alcohol in them could trigger relapse. Make your own snacks and drinks to bring with you to parties. Having your own preferred drink or snack in hand will help avoid the possibility of being handed things you will need to decline.
Have a few simple responses ready for awkward questions from relatives regarding your recovery. Do not feel the need to go into long explanations, or to answer every single question. Change the subject or let them know that you have some other things to do.
Help plan activities instead of just sitting around and drinking. Suggest some board games, sporting events, holiday movies, or building a snowman. Keeping yourself busy will nix cravings, alleviate stress, and help you steal some joy from the holidays.
Handling Stress or Cravings
When stress and cravings start to creep up on you, take a minute to remind yourself why sobriety is better and healthier for you. Recognize possible triggers and move to a different spot or find someone you trust to strike up a conversation with. You can also find someone to help with tasks that they need done, or find a game or activity to do.
Support systems are especially helpful and important during this time of year. Call a trusted friend, family member, or sponsor to talk with when feeling stressed. Attending extra AA or NA meetings during the holidays can give you extra confidence to get through the holiday season. Plan ahead to find meetings even if you will be in another city for the holidays.
Give Back to Others
Many just like you are battling temptations of relapse during this time of year. Make an effort to reach out and help other recovering addicts by attending parties with them to further their sobriety. Reaching out to others during the holidays can have a healing effect on you just as much as them. It can make you more confident in your own sobriety.
Selfless acts remind you of the things for which you can be grateful. Positive interactions will bring love and joy back into your life, and remind you that you can successfully avoid relapse and have a joyful holiday season.
Constance enjoys sharing stories of hope with those feeling lost, and encourages them to believe that there is a healthy, fulfilling life on the other side of whatever path they're currently traveling.
Photo by BookBabe
Share