Meet J. David Cox, who many consider "Dr. No" of badly needed reforms within the Department of Veterans Affairs ("the VA').
J. David Cox is President of the American Federation of Government Employees and is the person most likely to block any meaningful reform within the VA.  SFTT has had an eye on Mr. Cox who in the run-up to last year's Presidential election, threatened the previous secretary of the VA with physical violence:
Cox was "prepared to whoop Bob McDonald's a – -," he said. "He's going to start treating us as the labor partner … or we will whoop his a – -, I promise you,"
The new VA Secretary, Dr. David Shulkin, is rightly receiving favorable media coverage and support from both parties in Congress on his forceful new leadership.  In fact, the New York Times recently referred to Dr. Shulkin as a "Hands On, Risk-Taking 'Standout.'"
The New York Times reports the following example of Dr. Shulkin's responsiveness (and common sense):
After he first took the job, he grew concerned that the agency was not doing enough to prevent suicide after a news report showed high rates among young combat veterans. Suicide prevention leaders told him that they would put together a summit meeting to respond, adding that it would take 10 months.

Dr. Shulkin told them to get it done in one month. When his staff members pushed back, he pulled out a calculator and began quietly tapping, then showed them that during the delay, nearly 6,000 veterans would kill themselves. They got it done in a month.

"For me it was a very important day," he said, remembering the meeting. "It taught our people you can act with urgency, and you can resist the temptation to say we work in a system that you can't get to move faster. I think they learned that you can."
Indeed, SFTT has greatly admired the decisiveness with which Dr. Shulkin has attacked two chronic problems with the VA:  A bloated infrastructure and the lack of authority to manage the VA's large workforce.
While Congressional Republicans and Democrats have largely agreed on an "accountability" bill to support the firing of VA employees, J. David Cox argues that:
"Trampling on the rights of honest, hard-working public-sector employees is not the solution to holding bad employees accountable for their actions," American Federation of Government Employees National President J. David Cox said. He said the bill would set up different standards for VA employees and other federal workers.
In fact, just recently it was reported that "a federal appellate court overturned the firing of Sharon Helman, who presided over a Phoenix VA Health Care System that left veterans waiting for weeks or even months for care while phony records were kept to show the agency was meeting its wait-time goals."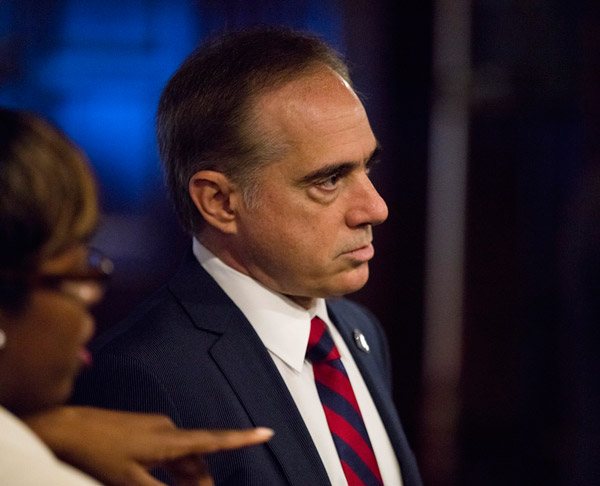 While I hope that Dr. Shulkin has the fortitude to implement the bold changes he has outlined, the entrenched bureaucracy represented by David Cox and others, such as David Cifu, will continue to undermine his efforts.
The VA has simply grown too large to manage effectively.  Dr. Shulkin is right in arguing that the lives and well-being of Veterans are far more important than defending the rights of a few "bad apples" within the VA.  David Cox should embrace the vision of Dr. Shulkin and act in a manner which reflects well on the work ethic of the vast majority of VA employees.
Veterans, Veteran organizations and our elected officials should provide Dr. Shulkin with a clear mandate to bring about the much needed reform within the VA. Our Veterans, their family and friends and an appreciate public deserve no less.
J. David Cox would do well to join forces with Dr. Shulkin in this effort rather than taunt him.
Share