The New York Presbyterian Military Family Wellness Center at the Columbia Veterans Research Center is currently conducting a Trauma-Focused Equine-Assisted Therapy for Veterans with PTSD study.  See details below: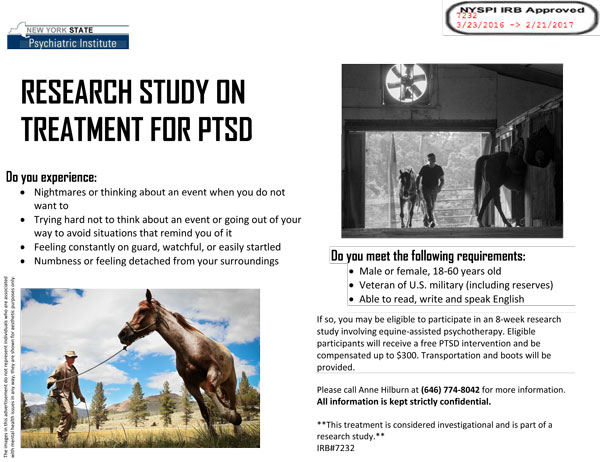 Through the NYP Military Family Wellness Center we offer veterans and family members evidence-based treatments at no cost in the context of a research study. Essentially, patients are periodically assessed during and after treatment so that we can learn more about the needs of the veteran population.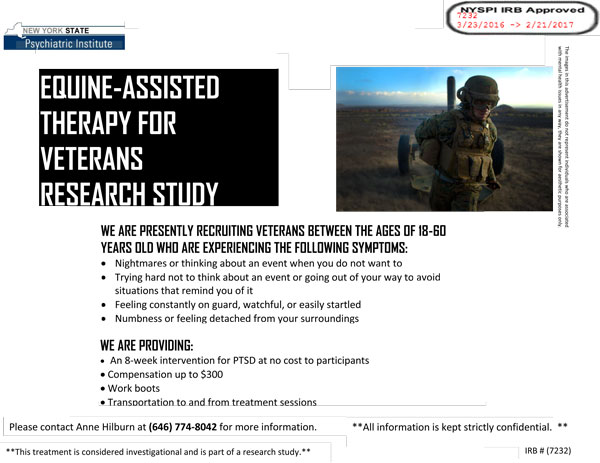 In the equine study we're investigating the efficacy of an alternative treatment for PTSD that has not been thoroughly studied in the past. The treatment does not involve riding horses, but instead focuses on ground activities such as grooming and leading horses.
It is a group treatment with each group consisting of 4-6 veterans. Treatment sessions will take place at the Bergen Equestrian Center in Leonia, NJ (about 15 minutes away from our office in Washington Heights).
Veterans or their loved ones who seek more information, please contact Anne Hillburn at (646) 774-8042.
Share