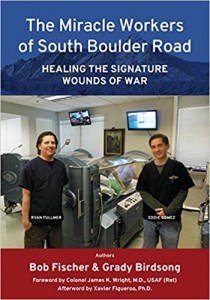 Grady Birdsong, a USMC Veteran from Vietnam, has co-authored a book with Col. Robert Fisher (USMC – Ret) that deals with hyperbaric oxygen therapy ("HBOT") entitled "The Miracle Workers of South Boulder Road:  Healing the Signature Wounds of War."
The book is a 2016 Best Book Awards finalist and details how HBOT helps reverse the damage of traumatic brain injury.   In a must-hear interview, Grady Birdsong explains his experience with HBOT (and now his advocacy)  to Jerry Fabyanic on his "Rabbithole" program at KYGT in the Idaho Springs/Denver area.
Grady Birdsong spikes up interest in hyperbaric oxygen therapy with a down-to-earth radio interview with KYGT Radio with the following introduction:
In our advocacy campaign to make this clinic and treatment known, I had the good fortune of being interviewed on KYGT Radio over the weekend by Jerry Fabyanic on his "Rabbithole" program in a mountain town close to Denver. He has so graciously provided me with a link to that interview about our book. We most gratefully appreciate his voice and his audience at KYGT in the Idaho Springs/Denver area. Likewise my close friend and veteran Marine, David T. "Red Dog" Roberts, 1st Bn, 4th Marines, Delta Company in Vietnam and his Doc, Corpsman, Kenneth R. Walker produced two songs that are complementary to this advocacy of healing the signature wounds of war. You will hear them in the interview.
CLICK HERE for the entire and very educational 50+ minute podcast.
SFTT has long recommended the use of hyperbaric oxygen therapy or HBOT to treat Veterans with the symptoms of PTSD and TBI.  There are many studies that prove conclusively that the supervised application of HBOT helps improve brain function and restores cognitive abilities.
While Mr. Birdsong points out the many restorative benefits of HBOT, follow-up supervision is recommended to help deal with some of the symptoms of PTSD.
Sadly, in many online forums dealing with the ravages of PTSD, most military families are unaware of the benefits of regular supervised "dives" in HBOT chambers.  I would argue that the Department of Veterans Affairs has purposely discredited the use of HBOT in treating PTSD and TBI to promote their own failed agenda and the prevalent use of addictive prescription drugs.
One only needs to listen to the likes of Dr. David Cifu, Senior TBI Advisor to the Department of Veterans Affairs, to see the cynicism and blatant disregard for clinical evidence adopted by the VA against HBOT.   One can only speculate why, but HBOT seems to offer Veterans a far better solution than the cocktail of drugs served up by the VA.
Found below is a very moving and instructional video by Grady Birdsong of a young woman who "recovered her life" from the "signature wounds of war" with the use of HBOT:
Thanks to the effort of Grady and many other dedicated Veterans, we can all join together and help Veterans reclaim their lives. It is simply the right thing to do!
Nevertheless, the benefits of HBOT will not be widespread until the restrictive and self-serving barriers to this treatment are adopted and encouraged by the VA. Secretary Shulkin of the VA wants change to occur at the VA.  What better way to demonstrate his commitment to reducing Veteran suicides than by embracing HBOT to treat PTSD?
If you want to learn more about how HBOT can be used in treating PTSD and TBI, I suggest that you purchase The Miracle Workers of South Boulder Road:  Healing the Signature Wounds of War.  Share it with family and friends to encourage them not to give up hope on our brave Veterans.
For those tired of watching the lives of loved one end in pain, depression and hopelessness; write Dr. Shulkin and members of Congress and ask for action.  Don't allow naysayers and self-serving bureaucrats like Dr. Cifu block Veteran access to HBOT.
Share