The gatekeepers at the Department of Veteran Affairs (the "VA") remain intransigent in providing urgently need care to Veterans suffering from PTSD and/or TBI. Standard Operating Procedure ("SOP") at the VA is to argue that FDA-approved clinical studies are needed to sanction treatment methods – regardless if these treatment alternatives have been used with success in many other countries for decades and, in some cases, hundreds of years.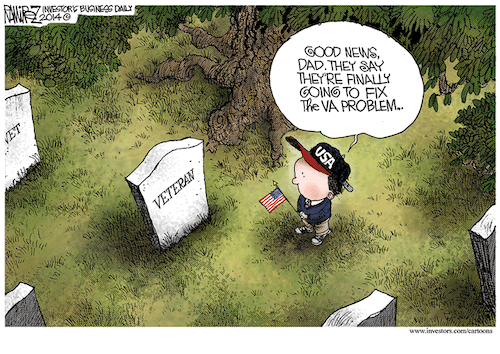 Instead, the VA serves our Veterans a cocktail of potentially lethal prescription drugs that do carry the FDA's "Good Housekeeping Seal of Approval."   How is this possible when the Centers for Disease Control and Prevention ("CDC") reports  an epidemic in addiction to prescription drugs?
Unfortunately, the VA's SOP in prescribing these opioids to Veterans with PTSD and TBI hasn't changed in many years.   Why?  Could it be that the benefits to Big Pharma outweigh the benefits of providing our Veterans with the treatment they merit?   I am most hesitant to ask this question, but I can think of no other explanation.
For instance, treating head injuries with Hyperbaric Oxygen Therapy ("HBOT") has been around for decades.  It is the standard procedure provided to wounded soldiers and civilians with head injuries by the Israeli medical profession for decades.
This short video below is in Hebrew with English subtitles, but it provides a very compelling argument why our Veterans should have access NOW to HBOT while the bureaucrats and FDA twiddle their thumbs and continue to ingratiate themselves with Big Pharma lobbyists.
Gordon Brown  of Team Veteran
argues that  "We need this type treatment in our VA and military hospitals instead of the DRUG therapy they are now using. Most TBI cases have been misdiagnosed as PTSD and drug treatment cause further complications for our veterans."   Gordon's views reflect my own and those of hundreds if not thousands of Veterans.
In fact, some hospitals in the private sector are taking radical steps to curtail the use of opioids in treating pain.  In an recent New York Times article, St. Joe's hospital is implementing wide-ranging changes to comply with CDC recommendations:
"St. Joe's is on the leading edge," said Dr. Lewis S. Nelson, a professor of emergency medicine at New York University School of Medicine, who sat on a panel that recommended recent opioid guidelines for the Centers for Disease Control and Prevention. "But that involved a commitment to changing their entire culture."

In doing so, St. Joe's is taking on a challenge that is even more daunting than teaching new protocols to 79 doctors and 150 nurses. It must shake loose a longstanding conviction that opioids are the fastest, most surefire response to pain, an attitude held tightly not only by emergency department personnel, but by patients, too.
Is it too much for that lumbering behemoth VA to show the same sense of urgency?
I suppose we can continue to get distracted with the many other "big" issues facing our country, but providing our Veterans with proper therapy is one issue where Americans can easily unite.  Let's not let the bottom line of Big Pharma distract us from that mission.  The brave men and women who have served our country deserve no less.
Share