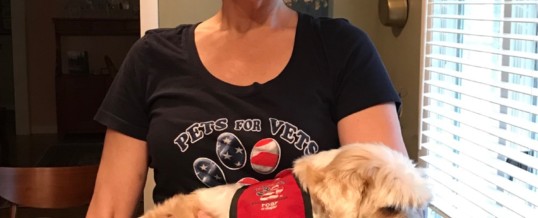 My name is MaryAnn H.A. Dyer, I am a Retired, 100% Disabled, female Army Veteran, with a Military Occupational Skill (MOS) in Intelligence (TSBICI). I have Post Traumatic Stress Disorder (PTSD) with Night Terrors, Military Sexual Trauma (MST), Panic Attacks, Fibromyalgia, Degenerative Spine and Severe Migraines.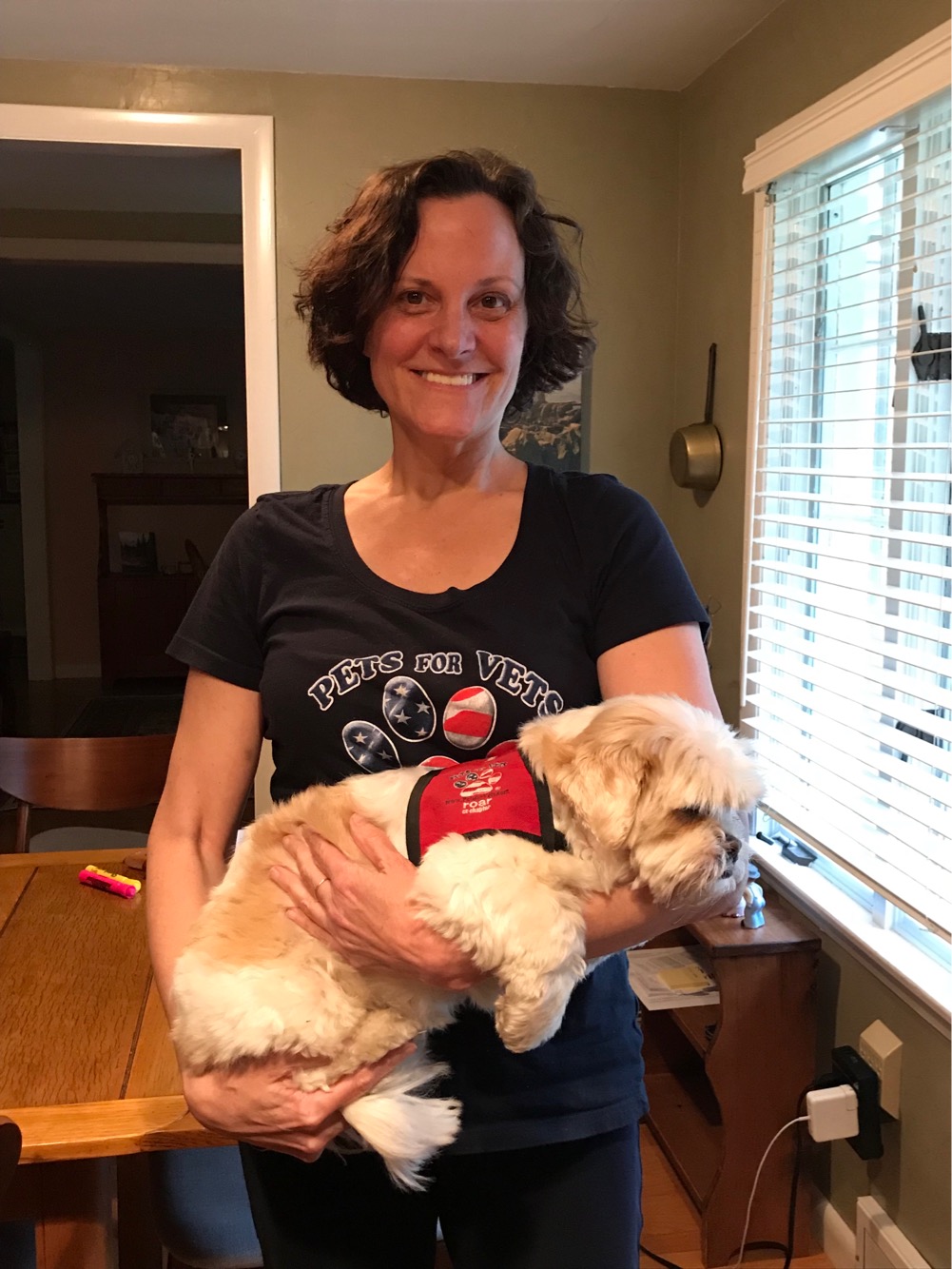 I love the Army and I love my Country; We take care of each other. The thought that I would need the help of a Service Dog to release anger that I've held deeply inside my soul for decades flabbergasted me. I was grossly mistaken. My therapist suggested a Pets-For-Veterans dog to me and I envisioned thoughts of a HUGE rabid beast to protect me…I got a 12 pound Shih Tzu mutt with an underbite and hair accessory!
Her name was Cookie. Seriously, that's a nickname for someone with "Mother" tattoos working KP (kitchen duty) in the Army, peeling potatoes while smoking cigarettes. Our personalities clashed until I promoted her to my rival – Navy, she became Wookiee, a fighter pilot on the Millennium Falcon!
Wookiee not only rides with me in the HandyVan to VA appointments, she travels with me on airplanes to seminars. Wookiee controls not only my mood, but that of the crowd around us, which comes in handy should I have a panic attack and need her to perform conflict resolution and crowd control maneuvers. Wookiee is excellent at pain management and meditation techniques. She helps me move energy throughout my body, releasing it from pain for the duration of meditation. Truly a miracle I'd never experienced before.
In meditation, I drew parallels between Wookiee's and my life while she was with Pets-For-Vets and I was in the military. She was badly matted and in need of a shave. I called that basic training where PVT Wookiee got a "high n' tight" and learned her obedience commands. I was a Bulldog at Mad-Dog-Alpha-8-2; We both wore dog tags. I shared an open bay with sixty women and Wookiee shared an open kennel. I've been locked in War Rooms and Wookiee has been locked in cages. Wookiee and I guard each other's back and are both loud in sounding off! We were destined to join forces together.
Upon awakening, I look into her "owl" eyes of wisdom and play with her gently on my bed. She gives me great delight and engages my maternal instincts. Taking Wookiee for walks, feeding and brushing her gives me reason to function regardless of emotion, pain or desire. She is an extension of myself, only better.
Wookiee sleeps with her head at my heart and wakes me before the night terrors can grip my mind, body and soul. She helps me re-write my life in a healthy, productive, humorous way. This Service Dog breathes life into my lungs; I am blessed to call her friend.
Share