In yet another token concession to those concerned with repeated trauma of concussions on NFL players, Commissioner Roger Goodell announced a new initiative "intended to increase the safety of the game, specifically by preventing, diagnosing and treating head injuries."
As reported by CNN, Goodell said:
. . . the league and its 32 club owners will provide $100 million in support of engineering advancements and medical research — in addition to the $100 million previously pledged by the league to medical and neuroscience research.

The Play Smart Play Safe initiative also requires hiring a physician to serve as the league's chief medical officer.  The physician will work with each team's medical staff and establish an independent scientific advisory board to consider head injury research proposals.
Concussions and, more importantly, chronic traumatic encephalopathy ( or"CTE') continues to be a subject that is only whispered about behind closed doors at the NFL.  Nevertheless, it is a problem that will not soon disappear and SFTT remains hopeful that researchers will be able to improve the safety of the game and provide insights into how this horrific "sport" injury can be prevented and,  hopefully, treated more effectively.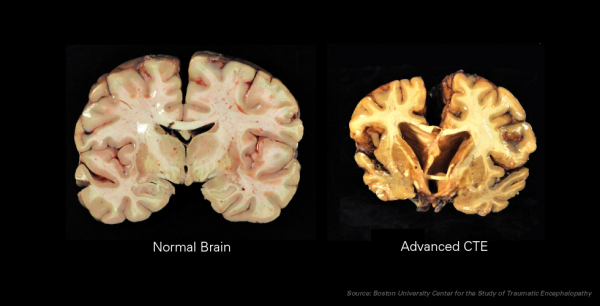 While the NFL has been slow to address this problem, the Department of Defense and the Department of Veterans Affairs (the "VA") have been even slower.  Consider what SFTT stated in March, 2016 in its article entitled "NFL Preempts Veterans with Brain Injuries":
With hundreds of thousand of Veterans suffering from brain trauma, isn't it about time our political and military leadership quit burying their heads in the sands and deflect public scrutiny by investigating the NFL, which has Congressional immunity from antitrust regulation?  What a strange but convenient retreat for our feckless political leadership.

If the NFL owners had any sense, they would embrace the battle against brain trauma and work with the military to help both its gladiators and the brave men and women suffering from PTSD. Indeed, this public relations initiative could help deflect "public" outrage and provide the medical profession and others with the resources and impetus to deal with the silent wounds of war.
While the causes of brain trauma are different, shared research could go a long way in helping both Veterans and NFL players deal with the problems of repeated concussions.  No one expects easy answers, but the military has collected a wealth of data on concussions over the last six years from sensors implanted in helmets of soldiers serving in combat.
The first step in solving a problem is to admit you have a problem.  Sadly, both the NFL, the VA and the DoD have been slow to address this most serious problem and one wonders how committed either organization is to do so.
Share