Found below are a few news items that caught my attention this past week. I am hopeful that the titles and short commentary will encourage our readers to click on the embedded links to read more on subjects that may be of interest to them.
Drop me an email at info@sftt.org if you believe that there are other subjects that are newsworthy.
Turkey Opens New Battlefront in Syria
Turkish tanks and other armored vehicles have entered Syria's northern province of Aleppo and shelled Islamic State (IS, formerly ISIS/ISIL) positions in the area, opening up yet another battlefront within the last two weeks, various media outlets reported. Turkey sent tanks into the town of al-Rai, located in Aleppo Province as part of its Euphrates Shield operation aimed at pushing both IS and Kurdish militants away from the border, Turkey's Hurriyet Daily News reported Saturday.  Read more . . .
Marines Collect Intel and Pinpoint ISIS Targets
Behind the scenes in the fight against Islamic State militants in Iraq are Marine intelligence analysts who work around the clock to produce what are called, in military euphemism, "target development products" — essentially, information about enemy equipment and personnel to be destroyed.  As Iraqi security forces, supported by a U.S.-led coalition, fight ISIS militants with hopes to retake Mosul in the north by year's end, troops with Special Purpose Marine Air-Ground Task Force Crisis Response-Central Command provide "intelligence surge support," developing from one to six or more targets in a given week, task force commander Col. Kenneth Kassner told Military.com this week.  Read more . . .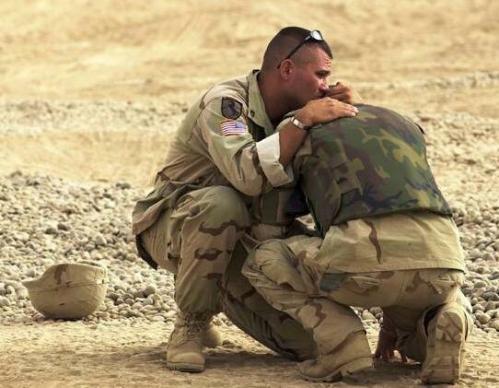 Can Combat PTSD be Cured?
According to Amy Marshall, associate professor of psychology at Penn State, when people suffer from Combat PTSD, there may be major changes in behavior and personality with no outward change in their appearance. Symptoms can include recurring nightmares and flashbacks of events, insomnia, feelings of anger or numbness, and the sense of being constantly on guard. Some studies suggest that twenty percent or more of soldiers returning from Iraq and Afghanistan suffer from PTSD; however, most researchers acknowledge that the stigma of mental illness, among other factors, makes accurate PTSD statistics difficult to obtain. Nevertheless, with an estimated twenty veterans committing suicide daily, there is a sense of urgency about finding solutions.   Read more . . .
US Army Introduces New Tourniquet
The service currently is training and equipping its combat medics with a new device, called a junctional tourniquet. It looks a bit like a belt, but comes with two inflatable bladders that can be pumped up to put pressure over a wound, even in locations where a traditional tourniquet would be ineffective. "Exsanguination (bleeding to death) is the most common cause of potentially survivable death for wounded warfighters," said Ellen Crown, a spokeswoman for the US Army Medical Materiel Agency. The junctional tourniquet is designed so "a person can position it in under a minute — a crucial factor for combat medics who only have mere minutes to save a fellow warfighter's life if he or she is hemorrhaging."  Read more . . .
Money Won't Fix What Ails the VA
A massive new report from the Commission on Care, created by Congress after the 2014 scandal, concludes: "Although VHA provides care that is in many ways comparable or better in clinical quality to that generally available in the private sector, it is inconsistent from facility to facility, and can be substantially compromised by problems with access, service, and poorly functioning operational systems and processes."  Among the commission's 18 recommendations for a sweeping overhaul: Create a more comprehensive and flexible "VHA care system." That's envisioned as a less rigid network of providers including doctors from the VA, military hospitals, other federally funded providers and facilities, and VA-credentialed private doctors and clinics.  Read more . . .
Lawsuit Filed a Wisconsin VA Facility
A lawsuit filed against a Wisconsin Veterans Affairs facility is alleging medical malpractice and wrongful death. The wife and the daughter of Jason Simcakoski filed the lawsuit in Madison, Wisconsin, on August 29th, 2016. It is not clear at this time what damages his family are seeking.  Read more . . .
Feel you should do more to help our brave men and women who wear the uniform or our Veterans? Consider becoming a member of Stand For The Troops.
Share