Found below are a few military news items that caught my attention this past week. I am hopeful that the titles and short commentary will encourage SFTT readers to click on the embedded links to read more on subjects that may be of interest to them.
If you have subjects of topical interest, please do not hesitate to reach out. Contact SFTT.
Syrian Military Threatens Coalition Forces on Border
Forces loyal to the Syrian government have threatened to retaliate with force after the U.S. military struck their positions on multiple occasions. A military alliance fighting the Islamic State militant group (ISIS) and other insurgents on behalf of Syrian President Bashar al-Assad and his allies in Iran and Russia issued a statement Wednesday containing five points of criticism after U.S. warplanes carried out strikes against their fighters on Tuesday. The U.S. argued that Iran-backed militants had approached too closely a Special Forces base in the Syrian region of al-Tanf near the Iraqi and Jordanian borders, prompting the U.S. to launch its second such attack in three weeks against pro-Assad forces.  Read more . . .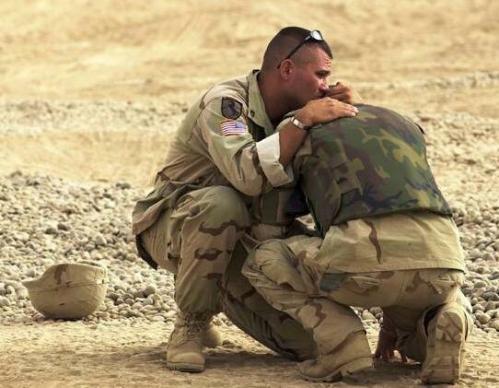 Treating PTSD at the Department of Veterans Affairs
The Department of Veterans Affairs has greatly expanded its treatment programs for mental health problems overall, and for post-traumatic stress disorder in particular, said Dr. Harold Kudler, acting assistant deputy under secretary for Patient Care Services at the VA. In fiscal 2016, the VA provided mental health treatment to 1.6 million veterans, up from 900,000 in 2006, Kudler said. Of the overall figure, 583,000 "received state-of-the-art treatment for PTSD," including 178,000 who served in Iraq and Afghanistan, he added.   Read more . . .
European Military Command Center Moves Forward
The European Union approved a new military command center for foreign training missions on Thursday after Britain dropped its opposition, the latest step in EU efforts to integrate its militaries and defense industries. A day after the European Commission offered 1.5 billion euros ($1.68 billion) a year in support of Franco-German plans for greater EU defense cooperation, all 28 EU governments agreed for the command center in Brussels to run training missions in Somalia, the Central African Republic and Mali. EU foreign policy chief Federica Mogherini said in a statement the decision was "a very important operational decision to strengthen European defense".   Read more . . .
Senate Passes VA Reform Bill
The Senate approved bipartisan legislation by voice vote Tuesday to reform civil service protections at the Department of Veterans Affairs. The legislation, dubbed the "Department of Veterans Affairs Accountability and Whistleblower Protection Act" would make it easier to fire federal employees, including executives. The legislation follows numerous scandals at the VA in recent years, most notably the manipulation of waiting lists for veterans, with patients dying while waiting for treatment.  Read more . . .
Secretary Shulkin Announces Shift in Electronic Records
In a move that's been long-discussed and much anticipated, Veterans Affairs Secretary David Shulkin announced his intention to move VA to a commercial, off-the-shelf electronic health record and turn the page on a new chapter toward achieving interoperability with the Defense Department. VA will abandon its own, existing Veterans Information Systems and Technology Architecture (VistA) and adopt MHS Genesis, the same EHR system that DoD is deploying. All patient data will reside in one common Cerner Millennium system.  Read more . . .
Crisis in PTSD Drug Development Leads to Other Treatment Alternatives
Only two medications – sertraline (Zoloft, Pfizer) and paroxetine (multiple brands) – are currently approved by the US Food and Drug Administration (FDA) for the treatment of PTSD. Although these drugs and a few others have modest effect sizes, they are not as effective as trauma-focused psychotherapies, as reported in a recent review, which, Dr Davis said, factored largely into the pivotal clinical guidelines shift. Although the results reflect the potentially robust efficacy of psychotherapy, they also underscore the need for better medications, a sentiment that Dr Davis and her colleagues on the working group noted in a consensus statement.  Read more . . .
Drop me an email at info@sftt.org if you believe that there are other subjects that are newsworthy.
Feel you should do more to help our brave men and women who wear the uniform or our Veterans? Consider donating to Stand For The Troops
Share