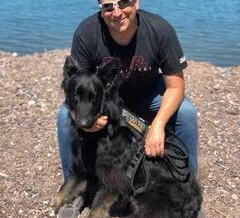 I can say I am alive today because of my Service Dog Roy!
In May of 2017 I received a significant mental blow.  On that day while home by myself, I received a letter in the mail explaining to me from an employer, I was broken, I was terminated, they had no position for me.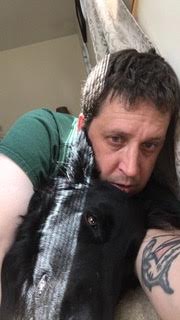 Fired, rejected, useless, failure as a husband and father.   After reading the letter, I walked to my room, opened the drawer and pulled out a 40 caliber Sig Sauer pistol.  While crying uncontrollably, I sat on the floor by myself and pushed that pistol as far back in my throat as I could.  With every fiber of my being I had every intention of pulling the trigger. Across the house in my living room was my service dog Roy.  How he knew I will never know!  One minute I was alone, the next minute he was licking me and pressing his body to mine.  Roy's paws on my arms and licking me at the same time.  The combination of my despair and love of my service dog and his persistence to make me hold on to him saved my life literally.  I have the (above) photo of that moment only because a friend insisted I send her one to know I was ok.
Since that day, I have completed my Bachelor of Arts degree with the intent of attending Michigan State University in August of 2019 for a Masters in Vocational Rehabilitation.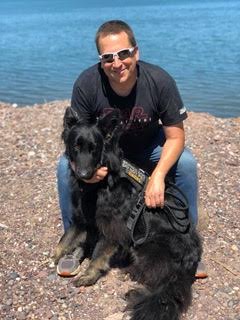 Without the love and support of Guardian Angels and the devotion of my Service Dog Roy I would not be alive.  I have attached two photos:  The first depicts the despair of that fateful day, the second is my life reborn with Roy by my side.
Sincerely,
Sheldon Ewers
U.S. Navy Veteran and former Lieutenant Michigan Department of Corrections
Share