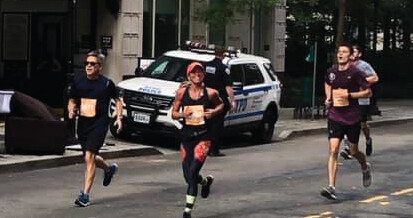 Sunday, September 29th marked the 18th annual Tunnel To Towers 5K run and walk that retraces the steps of FDNY firefighter Stephen Siller, who was on his way home after his shift on Sept. 11, 2001, when he got word of a plane hitting one of the World Trade Center towers. He turned back around, with roads closed, he left his vehicle, strapped on 75 pounds of gear and ran through the Brooklyn Battery Tunnel and gave his life helping to save others.  Among the over 30,000 participants who took part in the event was Robin Isidro of Stamford Connecticut who shares her experience.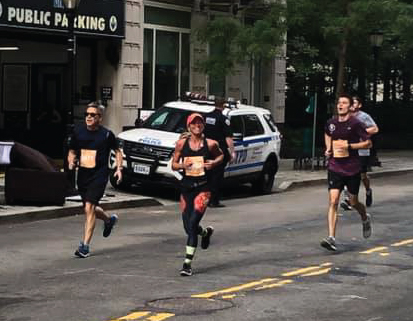 "I've been doing the Tunnel to Towers Run for 10 years now, and every year it still affects me.  Coming out of that tunnel, seeing all the police & firefighters holding the pictures of those who passed, the seemingly endless line of picture after picture after picture.  Knowing those men & women gave their lives trying to help us ordinary people.  By the time I reach the end of the tunnel, I'm tired, I'm hot, I can hardly breath but then you break through and see that and think "I can't give up now, how can I stop when they didn't".   To see all these spectators cheering you on, pushing you to keep going.  When you run past a fireman running with all his gear on, holding that flag, and here little old me is complaining I'm tired?  You realize no you're not that tired!  When you see a fallen firefighter's wife running in her deceased husband's turnout gear, and your chest heaves thinking, that could be me.  When you think of how Stephen felt when he grabbed his gear and made that last run, after a 24-hour shift, do you think there was any thought in his head to quit?  To walk?  No, he pushed on and so did I.  You run & you slap the hands of the transit workers in the tunnel, you slap the hands of the cops & firefighters on the side, you slap the hands of the cheerleaders cheering you on, and you try not to cry.  You love this race because it brings it all back, the love, the support, the appreciation we all had and you remember what those people sacrificed themselves for.  They did it for me, for you, for all of us!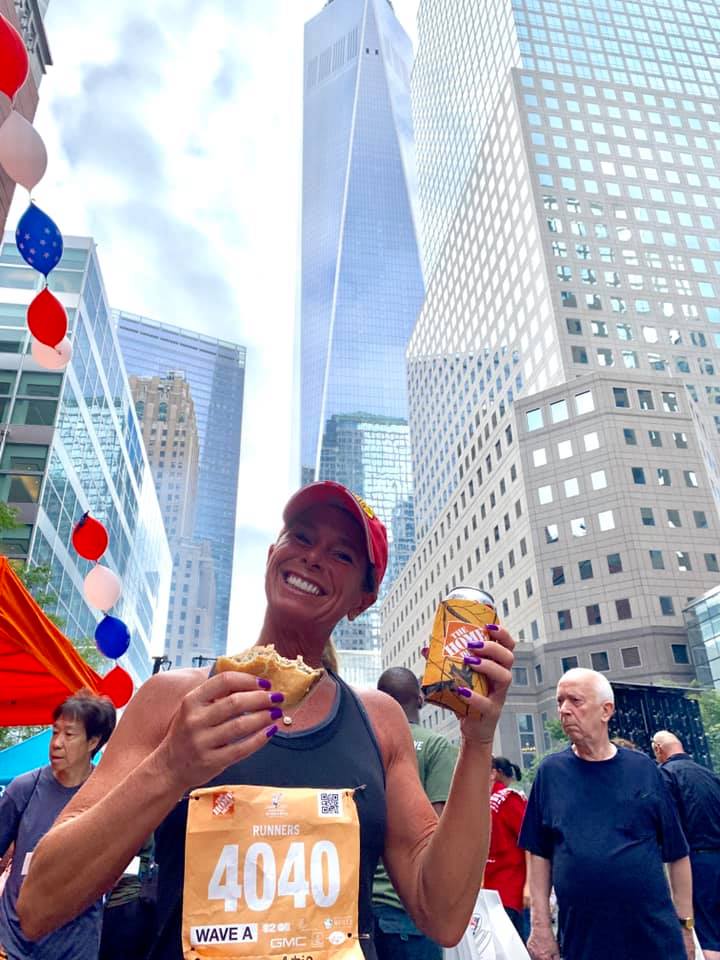 When I first decided to do this race I had no idea what I was getting myself into.  I didn't realize the impact it would have on me.  I never realized it was such a HUGE thing.  Each year it gets bigger & bigger.  All walks of life do this event.  You don't have to be in shape, you don't have to run!  Last year I did it a week after shoulder surgery so was forced to walk it, which allowed me to take everything in even more.
Before the race, as we're at that start line waiting to go, they show videos of all the people this foundation has helped.  To be a part of that, albeit a tiny itty bitty part, is so emotional, so humbling and yet so fulfilling all at once.  Fighter jets flying above, helicopters, the national anthem.  You feel so American!  So patriotic!
Then you run, you come around the bend and there it is, the Freedom Tower.  What do you think Stephen saw when he was running those same steps?  What I see is freedom, love, hope.  What he saw was horror!  I get to finish my run, cheer on those behind me, have a banana, a burger, a water, so many vendors feeding you, thanking you.  Everyone is smiling & proud.  Then after everyone is through, you stand to the side & watch as those same police & firefighters that were standing outside of the tunnel holding the pictures, march past.  The line is long and wide, so so many of the fallen.  They didn't get the party after, they didn't get a high five, a good for you, an award, a party.  So why do I do this race year after year?  Because they can't."
An amazing finish to an incredible day.  Video captured by Robin Isidro.
Share