Only a cynical person could look with amusement on the recent self-serving announcement by the Department of Veterans Affairs ("VA") that it is taking "additional steps" to address Veteran suicides.   I realize that it is somewhat difficult to get a $180 billion a year bureaucratic behemoth to focus on an issue that has been front-page of every major media outlet, the DoD and even the VA for well over 10 years.
In fact, many legislators and many grieving families are simply scratching their heads and asking the question that most any sane American would ask:   Hasn't the VA been focused on Veteran suicides all along?   I guess the simple conclusion is this:  Yes, the VA is aware that approximately 22 Veterans commit suicide each day, but our management believes that these "additional steps" will help stem the tide:
Several changes and initiatives are being announced that strengthen VA's approach to Suicide Prevention. They include:

Elevating VA's Suicide Prevention Program with additional resources to manage and strengthen current programs and initiatives;
Meeting urgent mental health needs by providing Veterans with the goal of  same-day evaluations and access by the end of calendar year 2016;
Establishing a new standard of care by using measures of Veteran-reported symptoms to tailor mental health treatments to individual needs;
Launching a new study, "Coming Home from Afghanistan and Iraq," to look at the impact of deployment and combat as it relates to suicide, mental health and well-being;
Using predictive modeling to guide early interventions for suicide prevention;
Using data on suicide attempts and overdoses for surveillance to guide strategies to prevent suicide;
Increasing the availability of naloxone rescue kits throughout VA to prevent deaths from opioid overdoses;
Enhancing Veteran Mental Health access by establishing three regional tele-mental health hubs; and
Continuing to partner with the Department of Defense on suicide prevention and other efforts for a seamless transition from military service to civilian life.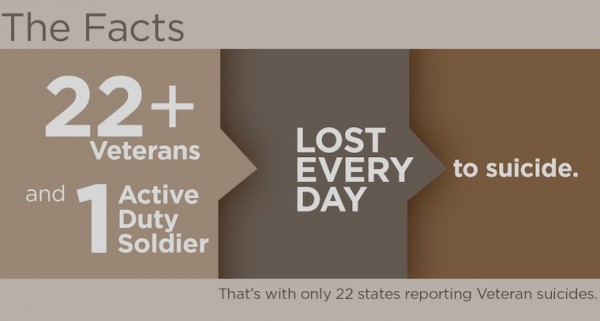 While I guess we should all take some solace from the fact that these "additional steps" may help reduce suicides among Veterans, many of us wonder why it has taken so long for the VA to recognize that its current treatment process has proved to be inadequate.  Indeed, the VA seems more intent on throwing cold water on alternative therapy programs than doing much at all to help get Veterans in help they need for PTSD and TBI.   More prescription drugs is not the answer according to the F.D.A., but I suppose it will be difficult for the VA to radically change its modus operandi.
Having been in business for many years, I am suspect when people tell me they are "taking steps."   To paraphrase the late British columnist Bernard Levin, I have no idea whether these are "fast steps," "double-time steps," or as is often the case for bloated government bureaucracies: "marching in place and hoping for a better outcome."
Judging from the VA's record, I am not at all convinced that these "additional steps" – even if implemented – will improved the outcome so fervently desired by Veterans and their loved ones.  For the most part, these "additional steps" seem more like a public relations initiative rather than something will bring about a major change in the way PTSD and TBI are diagnosed and treated by the VA.  I hope I am wrong.
Accountability and responsibility is a theme well understood by the brave men and women who serve in our armed forces.  Sadly, accountability and responsibility seem to be in short supply at the VA.  We should all be outraged!
Share