Almost every day one hears a moving story of how Veterans with PTSD and other debilitating injuries are provided comfort and support by service dogs.
Nevertheless, the Department of Veterans Affairs ("the VA") continues to argue that there is little  scientific or clinical evidence to confirm that service dogs benefit Veterans in a meaningful way.
"I would say there are a lot of heartwarming stories that service dogs help, but scientific basis for that claim is lacking," said Michael Fallon, the VA's chief veterinary medical officer. "The VA is based on evidence based medicine. We want people to use therapy that has proven value."
The argument is a brief synopsis of Dr. Fallon's testimony to the House Subcommittee and Government Reform provided in April, 2016.
In his written testimony, Dr. Fallon goes on to state the following:
The VA/Department of Defense Clinical Practice Guideline recommends trauma-focused cognitive behavioral therapy [such as Prolonged Exposure (PE), and Cognitive Processing Therapy (CPT)], Eye Movement Desensitization and Reprocessing, stress inoculation, selective serotonin reuptake inhibitors, and venlafaxine, a serotonin norepinephrine reuptake inhibitor, as primary treatments for PTSD. PE and CPT are among the most widely studied types of trauma-focused cognitive behavioral therapy. Evidence demonstrating their effectiveness is particularly strong.
As SFTT has reported on numerous occasions, Prolonged Exposure (PE) and Cognitive Processing Therapy (CPT) have been largely ineffective in reversing brain damage to Veterans suffering from PTSD and TBI.
Specifically, the VA has very little evidence to show that PE and CPT therapy programs have done much to reduce the incidence of PTSD symptoms among Veterans against the "gold-standard" standardized PCL-M tests currently used by the VA.   The chart below illustrates the point (50 is considered base level):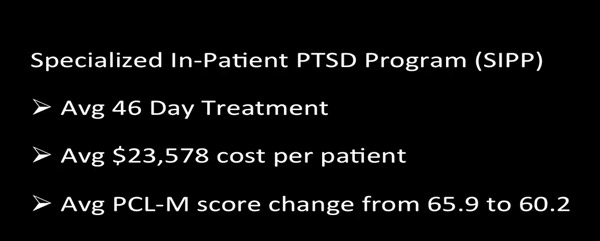 Aside from being very expensive to administer, the "evidence based medicine" supporting the effectiveness of PE and CPT programs currently administered by the VA is SADLY LACKING.
It is not unusual in the scientific community that promotes the effectiveness of the VA to apply fuzzy logic to alternative treatment programs.   In fact, there is a propensity among advocates to search for pharmacological solutions rather than embrace alternative therapy programs.
As one who has watched this charade play itself out on the big stage of public opinion, it is difficult for me to accept the argument that new pharmacology alternatives outcomes will be any different than the VA's embrace of OxyContin to deal with the symptoms of PTSD.
Whether it is dog or equine therapy or hyperbaric oxygen therapy ("HBOT"), Veterans are seeking out alternatives that are largely discredited by the VA.   In fact, one NIH researcher suggests argues that
Research also suggests further opportunities for the VA and other health care systems to develop new and innovative ways to overcome barriers to treating veterans with PTSD. With veterans and their families increasingly seeking care outside of the VA system, community providers play a key role in helping to address these challenges. It is critical they receive the education, training, and tools to improve their understanding of and skills for addressing the needs of this unique population.
It is difficult to understand that it should take 10 years to test the efficacy of using service dogs to help Veterans with PTSD.  Similarly, I recently learned that suspect test conditions used by the DoD to evaluate HBOT several years ago have prevented the VA from offering Veterans this life-changing service.
The VA continues to be its own worst enemy in helping provide Veterans with a lasting solution to their brain injuries.
Share