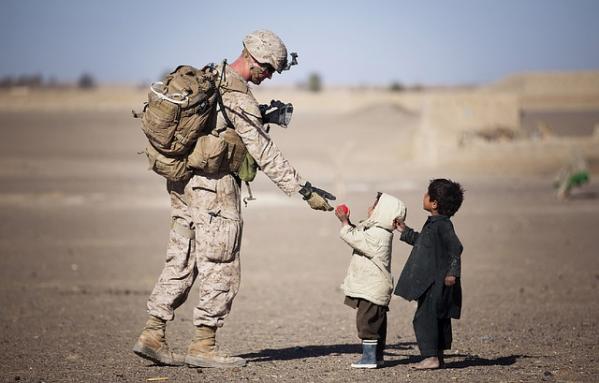 Many of us when looking at the chronic problem of PTSD which ail our Vets focus primarily on the needs of Vet. Nevertheless, the family circle is also severely impacted and often there is little the Vet can do to make himself or herself understood with their loved ones. In an moving article cited below, Army Veteran Seth Kastle penned a book called "Why is Dad So Mad?" to help children understand or at least come to grips with some of the personal demons they are grappling with.
Clearly, this is a complex problems and affects people differently, but any discussion – particularly with children – can provide a loving framework that may help explain why Dad or Mom are "So Mad" after repetitive deployments. Found below is an excerpt from NBC news on Army Veteran Seth Kastle's attempt to explain the ravages of PTSD to children:
Why is Dad So Mad?
Mental health disorders can be so complex that many adults can't comprehend them. So, how exactly do you explain them to children?

Army veteran Seth Kastle encountered this problem with his own young family after returning from deployment. Kastle struggled with Post Traumatic Stress Disorder and found it difficult to communicate what was going on in a way that they would understand. So Kastle channeled a relatable activity — reading — and penned Why Is Dad So Mad?, a children's book about a family of lions in which the father is suffering from PTSD.

The story depicts the father lion's struggle through a raging fire inside of his chest, which was mirrored from a description of Kastle's own PTSD. Through the help of a Kickstarter campaign, Kastle raised more than $6,000 to help hire an illustrator and get the book published.

Approximately 11 to 20 percent of recent veterans suffer from PTSD, according to the U.S. Department of Veterans Affairs. Kastle told NBC News that he hopes the project can help other military families who may be going through a similar struggle.

"No matter what, when they're mad or sad at you, they still love you," Kastle's 6-year-old daughter Raegan told NBC News. "There's always a fire in his heart, but no matter what, I know there's love."  read more at : Army Veteran Writes Children's Book To Explain PTSD To Younger Kids

PTSD and Service Dogs
There continues to be much anecdotal evidence regarding the benefits of service dogs for treating PTSD.  Nevertheless, the VA does not provide service dogs for physical or mental health conditions, including PTSD.  Sure, the VA is researching the benefits of canine therapy in treating PTSD, but Veterans must find organizations willing to support Veterans.
A golden-haired pup named Tuesday gleefully walked through the Performing Arts Center at Crafton Hills College as his human, Army veteran Luis Carlos Montalván, asked him to perform tasks for the hundreds in the audience.

"We've been together for six years. Oh boy, what a six years it has been. Never would I have imagined we'd be speaking here in front of you in Yucaipaa. It's amazing," he said.

Montalván had enlisted in the Army at the age of 17, and had his first tour of duty in the 1990s.  Seventeen years later and after multiple combat tours in Iraq, Montalván's military career came to a close. Leaving a life he had wanted to experience before he "could even remember" left him suffering from Post-Traumatic Stress Disorder.

Montalván was introduced to Tuesday to help him cope with the realities of wartime and the events following. The two have become inseparable. So much so that Montalván wrote a memoir about his experiences with the pup in 2011 titled, "Until Tuesday: A Wounded Warrior and the Golden Retriever Who Saved Him." The book became a New York Times best-seller.

"When people talk to Tuesday and me about joining the military, I tell them the truth — there's good and there's bad. (My opinion) is not from some bitter part of me or extraordinary biased thing, though it could be. In fact, we encourage people to serve."  Montalván spoke for close to an hour addressing a number of subjects while keeping things age appropriate as there were dozens of children in the audience.

After his speech, Montalván fielded questions from the audience and signed copies of "Until Tuesday" and his newest book, a children's book, titled, "Tuesday Tucks Me In: The Loyal Bond Between a Soldier and His Service Dog."  Tuesday, with his reassuring looks and expressive eyes, was by Montalván's side the entire presentation.

"Tuesday is my best friend," Montalván said. "Tuesday helps me out every minute, every hour, every day because he's a pack animal and he wants to see his pack doing well. If I'm not feeling OK, Tuesday will do something to make me feel better. And how great is a hug from your best friend that loves you unconditionally?" Read more: Veteran Luis Carlos Montalván talks PTSD, animal therapy with his dog Tuesday
Army Veteran Montalván is just one of a number of stories of how Veterans have found new meaning in caring for and the friendship of a dog to help him recover his life.  Shouldn't the VA wake-up and endorse canine therapy?
Share